American actor and film producer Leonardo DiCaprio, after years of waiting, finally won an Oscar for his role in 'The Revenant.'
And the 41-year-old actor "didn't win it for The Revenant," according to USA Today.
"Well, technically he did, sure. That was what the nomination was for, anyway. And it will go down as one of his signature roles, that of embattled, bear-mauled, vengeance-fueled frontiersman Hugh Glass.
But if you think about it, DiCaprio won his Oscar Sunday for playing a young rogue who finds love before tragedy strikes in Titanic. He won for the eccentric Howard Hughes in The Aviator and the party-hearty Jordan Belfort in The Wolf of Wall Street. He won for his undercover cop in The Departed, his Irish brawler in Gangs of New York, his diabolical plantation owner in Django Unchained, his developmentally disabled boy in What's Eating Gilbert Grape.
His shining moment taking the Oscar stage was 25 years in the making, ever since he made his big-screen debut — albeit inauspiciously — in Critters 3. He may have earned his new piece of home décor for The Revenant, making the most of his fifth acting nomination, but he deserves it for his entire IMDb page."
The acclaimed actor had been seemingly snubbed by the industry over, and over, and over again. DiCaprio's win presents powerful lessons for entrepreneurs seeking an industry nod or those simply looking to move past their role as nominee.
Here's a look at five incredible lessons every entrepreneur can learn from DiCaprio; lessons that reaffirm your time is coming.
1. Don't let the industry define you.
"Despite DiCaprio's lack of Oscars," Bustle writer Jordan Lipsitz explains how "he has still proven time and time again that he is a phenomenal actor with great taste in roles. He may not have won an Oscar, but he has won our hearts."
The same principle can be applied to entrepreneurs: stay focused on who you are serving; customers, brand advocates, employees. "The more you engage with customers the clearer things become and the easier it is to determine what you should be doing (John Russell)." Do what you are supposed to be doing and the industry will follow.
2. Remain selective about your work.
"DiCaprio has a reputation as one of the most selective actors in the industry, and he doesn't so much audition for a role as grill a director like a recruit at a job interview. 'I guess you could say I target most of the directors I want to work with,' says DiCaprio, a film buff known for sending scripts unsolicited to directors who he believes could handle the story (USA Today)."
Similarly, regardless of third-party accolades and recognition, continue to raise the bar and set a standard of business you can be proud of. Connect with your ideal customers, partners and investors. Finding the right "fit" extends beyond the product and its market.
3. Own your brand.
"In his early years," reportedly, "the actor had trouble getting his acting career off the ground. Back then, one agent even suggested DiCaprio change his name to Lenny Williams in order to make himself sound more appealing. In the end DiCaprio decided against it which was probably for the best. Lenny Williams doesn't quite roll off the tongue as well as Leonardo DiCaprio does (People's Choice)!"
When things aren't working in business, especially in the seed to early-stages, it is incredibly easy to opt for the least path of resistance, listen to the wrong guidance and rework your brand. But the truth is, no one is you and that's your point of power. Own your brand vision from inception to destination.
While the journey may call for a "refresh" remember that "your name is the first and most powerful part of your brand. A great name can help you stand out in a crowded market.  It can position you as a leader, convey your culture, even explain what you do in a word or two." In contrast, a "weak name is easily forgotten (Marketing MO)."
4. Never limit yourself.
In a WIRED interview, DiCaprio suggests that his ability to survive is due to a 'no limit's approach. "I think I survive because I don't limit myself. If there's some experience I want to have or a place I want to go, I do it."
5. Stay true to your message.
When asked about this tips on surviving an interview with a journalist, DiCaprio responded: "Only talk about what you want to talk about, no matter what the question is." Chris Lema explains what most successful entrepreneurs know all too well: "being focused is harder than spouting off a bunch of thoughts and words, hoping something sticks." Essentially, craft your message and tell it well.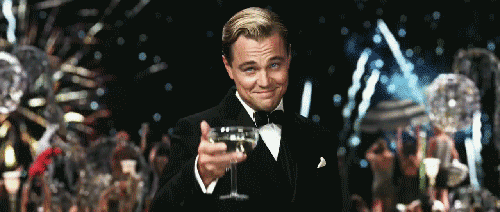 So, when your recognition is long overdue stay focused and remember: "It's not a matter of if, but when."
I'll raise a glass to that!
© YFS Magazine. All Rights Reserved. Copying prohibited. All material is protected by U.S. and international copyright laws. Unauthorized reproduction or distribution of this material is prohibited. Sharing of this material under Attribution-NonCommercial-NoDerivatives 4.0 International terms, listed here, is permitted.
In this article